Frequently Asked Questions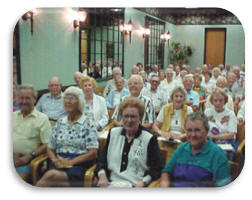 I am very impressed and so grateful for the computing experience you have created for seniors. The price is worth every penny and then some! And the greatest value is in the thought and care you have put into configuring the system...
This day was a day of joy for me as I watched Larry get more and more excited about the doors that the 9300 has opened for him.
And he hasn't even tried your Signature Support yet. I'm betting he'll be delighted.
My best wishes for success.
Kerwin, New Glarus, WI
I tried a computer a couple of years back but my friend had one of your computers and loved it and now so do I. You did a great job on the design for us old folks, thank you.
John, San Antonio, TX

Never in my life did I think I could do this. You know what they say, never say never.
Dottie, Mesa, AZ
What a pleasure to work with your people. They really are terrific.
Helen, Chicago, IL
I've had my A Plus Computer for almost 2 years and not a single problem. It's really been a lot of fun.
Caber, Charleston, SC
I love my laptop. I sit in my favorite chair and look up stuff all the time. Thank you.
Dotsy, Elkin, NC
At 84 my father is pretty set in his way, but I knew if I could get him an easy computer to use in assisted living it would open doors for him. He took to the A Plus 17" laptop immediately, I knew I had made the right decision. Your staff has been great and you have a real talent working with seniors.
Carol, Salt Lake City, UT

I had WebTV and that needed to be replace. It was great to be able to keep my same Email and now I can surf the entire Internet and it's so fast. I'm very happy with my A Plus.
Henry, Anchorage, AK
Q. Which model is best for you?
A Plus Computer models
The desktop models offers a large screen and large print keys keyboards, great for seniors with low vision. Laptop models are compact and portable, great for seniors with limited space or who like to travel, especially snowbirds. A Plus Computers are full featured computers that start you off with easy Email, Internet, games and video chat. Fully protected and powered by Windows Classic Pro with all of the popular programs seniors like to use already installed and ready to go, plus you can add any game, program or device you want.
Telikin
The simplified Telikin touch screen model is perfect for seniors looking for the simplest way to
Email, play games, video chat or view pictures. Designed for seniors with simple needs.
All models are completely setup and ready to go out of the box.
Great for sending to someone out of state as the setup is already done!
Q. What operating system do you use?

Our desktop and laptop models use Window Classic Pro, the most popular operating system used by 90% of the world's computers and includes lifetime virus protection. You'll be able to add any game, program, device or printer you want. With Windows Classic Pro each feature opens full window edge to edge for optimal viewing.
Windows Classic Pro is our exclusive version of Windows. Designed especially with seniors in mind it's easy to see, easy to use, maintenance free and fully protected so all you have to worry about is what to do next.
The customized Telikin Touch Screen model uses a simplified Linux operating system with the most popular features that seniors use like Email, Internet, games, video chat and pictures. There's even a word processor for letter writing. Additional programs cannot be added and only select HP printers work with Telikin
Q. Can I use my current Email address?
Yes, you can use any Email address. If you already have one you've been using (like WebTV) you can continue to use it. In most cases your old Email and address book will transfer automatically for you.
Q. Is there a printed manual?
Yes, we've included our fully illustrated "especially for seniors" guide that's an exact match for the A Plus Computer. Unlike generic "for dummies" books that have to fit all computer makes and models, our user guide is written exactly for our customized A Plus Computer so the pictures, illustrations and step-by-step instructions are a perfect match.
Q. Are laptops a good choice for Seniors?
A lot of seniors love the idea of taking a laptop to a favorite chair or on vacations. With free Internet available in most hotels your A Plus Computer will work exactly like it does at home. It's great to be able to stay in touch via Email or to look up fun "things to do" while you're visiting.
Laptops work on a battery or directly plugged in and do everything our desktop models can do.
Q. What is Senior Place?
Senior Place is our exclusive one screen access to the Internet built right into the A Plus Computers. With Seniors Place beginners easily surf the Internet with easy to recognize icons to popular sites. It's a great way for seniors new to the Internet to quickly familiarize themselves with the Web.
Q. I have a WebTV, is the A Plus Computer a good replacement?
Yes, we have many seniors who have switched from using WebTV and have found any of our models a great way to transition into the full Internet.
Q. Are there a lot of wires?
No, because they're all-in-one computers, they only require a wire for power (just like any appliance) and one for the easy-to-use mouse (included) and the keyboard on desktop models. You can use either a wired or wireless connection for the Internet on all models.
Q. Can I travel with the A Plus Computer?
Absolutely! The all-in-one compact design of our laptop models are perfect should you want to take it with you on a trip. It's great to be able to email friends and look up interesting "things to do" while on vacation. Most motels/hotels offer free wireless Internet access so your A-Plus Computer will work exactly as it does at home.
Q. Do I need high speed Internet?
Just like for phone and cable TV service, you will need Internet service. Internet service is available from the same company that you get your phone and/or cable TV service from. Most providers offer a discount when you add Internet service.
Q. Can I use Verizon's or ATT wireless service?
Yes, any wireless service (even from local companies) will work just fine with your
A Plus Computer. It will not work on the Telikin Computer.
Q. What does the lifetime warranty cover?
In the unlikely event that something goes wrong, no matter what, we will fix or replace your A Plus Computer.
Q. What if I decide it's not for me?
Try it risk free for 30 days, if you are not completely satisfied with your A Plus Computer, return it for a full refund.
*Highly Recommended - Our signature support with lifetime warranty for only $19.95 per month is valid only at the time of purchase (or within 30 days of date of purchase) of the A-Plus Computer. Support includes unlimited phone, remote and Email support. Limited lifetime warranty requires on-going monthly service plan and excludes abnormal wear and tear, neglect, or incidental damages as determined by Computer Tutor Plus, Inc. Monthly service plan price of $19.95 is guaranteed for the original owner and is non-transferable. Broadband internet connection is required. Customer responsible for cost and safe return of product. This warranty gives you specific legal rights, and you may also have other rights which vary from state to state, and some states do not allow the limitation of consequential or incidental damages so that some limits may not apply to you. Unless the product is defective or damaged, a minimal restocking fee may apply to returned items.
All Computers include a one year hardware only warranty included in the purchase price.

Need Help? Contact us at:
1-800-675-6341 or info@aplusseniorcomputer.com
Copyright © 1998 A Plus Senior Computer All rights reserved.